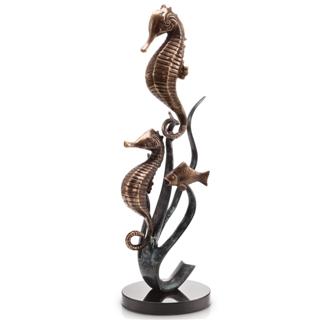 Our Seahorse Duo W/Fish Brass Art Sculpture is solidly crafted and impressive. This beautiful piece is sure to impress and enhance any nautical home or office setting. Made of cast brass, this depicts two Seahorses swimming in sea grass, with a friendly fish sidekick. Features a beautiful Patina finish, and sits on a marble base.
Measures: 18" H x 8" W x 6-1/2" D.
---
Order Your Hand Cast Brass Seahorse Duo W/Fish Sculpture Today!
---
Sorry, this item has been discontinued by the manufacturer, and is Sold Out. Thanks!