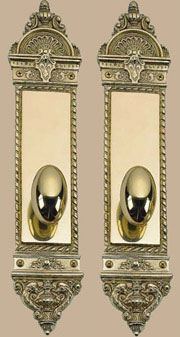 Our L'Enfant Collection 14" Double Dummy Plate & Oval Knob create Beautiful Door Hardware solutions for Home and Business. Mix & match door plates, knobs, levers, and finishes. Let your imagination soar, and create a look that is unique for you.
Measures: 3" wide x 14" high.
Knob Size: 1 3/8" x 2 5/16" with 2 1/2" Projection.
For Quick Reference of: What's Included? - Go Here.
---
Order Your Brass Accents Door Hardware Today!
---
View Available Finishes Here
View Available Door Knobs Here
View Available Door Levers Here
---
Contact Us for Custom Combination Orders & Pricing.