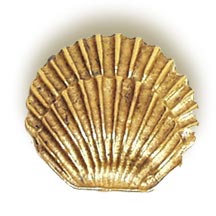 Our Round Seashell Cabinet Knob will instill thoughts of beachcombing and adventure. Enhance your home decor with these alluring treasures of the sea. These nautical theme knobs fill your decorating needs with a touch of maritime ambiance. Part of our Premier Collection, this knob is available in:
5 Select Finish Options.
Measures: 1-3/8" w x 1-1/2" h.
---
Order Your Round Seashell Cabinet Knobs Today!
---
Note: The Gold Finish options have been discontinued by the manufacturer.