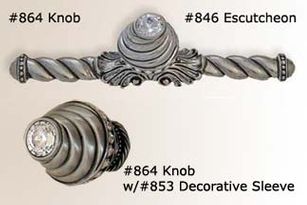 Our Cache Medium Cabinet Knob features a swirled base design, the perimeter adorned with gorgeous Swarovski Crystals. Another large crystal sits atop for a beautiful finishing touch. Available in 12 Patina Finish Options.
6 Swarovski Crystal choices.
---
Measures: 1-1/2" diameter w/ 1-5/8" projection.
---
Order Your Cache Medium Cabinet Knobs Today!