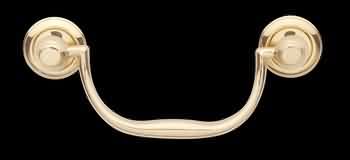 Cabinet Pulls are quick to change and give the room a whole new feel. Shop for your Cabinet Pulls here now. This Slender Bail Drop Pull is polished and lacquered brass set on small rosettes with a 4" boring and a simple slender bail. It is 5" long x 2" high with a 7/8" projection.
---
Order Your Slender Bail Drop Pulls today!
---
Sorry, this item is Sold Out, and unavailable at this time. Thanks!